Dark Chocolate 70% filled with chocolate mousse refined with rum – contains alcohol
A stroke of vegan genius: a dark chocolate mousse, wonderfully airy and chocolate-y, with an elegant note of rum, covered in a dark, fine flavor chocolate with 70% cocoa power. The homemade mousse base consists of cashews, which stay politely in the background, however: chocolate and rum have the main spotlight.
TIP: HOW TO ENJOY CHOCOLATE
Chocolate, like red wine, must be at room temperature to develop a full aroma. In order to taste the entire flavor spectrum of our hand-scooped chocolates, we dark chocolate at 77 °F, milk chocolate at 72 °F and suggest that you delight in white chocolate 68 °F.
CREATIVE & SUSTAINABLE
Zotter counts among the best and most innovative chocolate producers in the world.
All our chocolate is made from bean to bar at our in-house factory in Austria. Our entire business is Fair Trade verified. We are a member of the WFTO – the World Fair Trade Organization, the umbrella organization for fair trade, which oversees the compliance of the 10 official fair trade principles like fair prices, transparency, care for the environment, and the rejection of child labor, among others. We care for the environment and we are one of the most sustainable companies in Austria.
Zotter chocolates – because we love flavor as much as our planet!
Ingredients
Dark chocolate 70% filled with chocolate mousse refined with rum – contains alcohol
INGREDIENTS: COCOA MASS°*, CANE SUGAR°*, COCOA BUTTER°*, CASHEWS°*, GLUCOSE SYRUP°, RUM°*(4%), SALT
COCOA: 70% MINIMUM IN THE DARK CHOCOLATE
°= ORGANIC (100% ORGANIC)
ORGANIC CONTROL NUMBER: AT-BIO-402
*FAIR TRADED, FAIR TRADE CONTENT IN TOTAL: 93%
CONTAINS: CASHEWS
MANUFACTURED ON EQUIPMENT THAT PROCESSES TREE NUTS, PEANUTS, MILK, EGGS, SOY, GLUTEN AND SESAME.
Nutrition Facts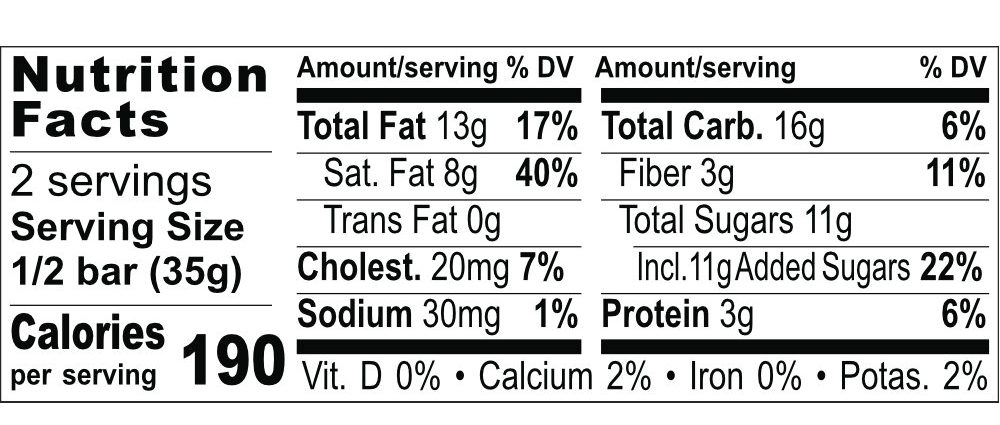 .