The school lunch is often the only meal of the day for the children in Uganda.
50 (euro) cents of each Chocolate Banana sold go to the "Chocolate for School" Caritas emergency relief project in Uganda. This ensures a school lunch for 600 primary school children. It also enables the school to expand their kitchen and to safeguard teachers' salaries.
As of 12/07/2021 we already sold 72.000 bars, that includes all bars Zotter Austria sold, including all their retailers and Distributors like us (Zotter USA) – thank you so much!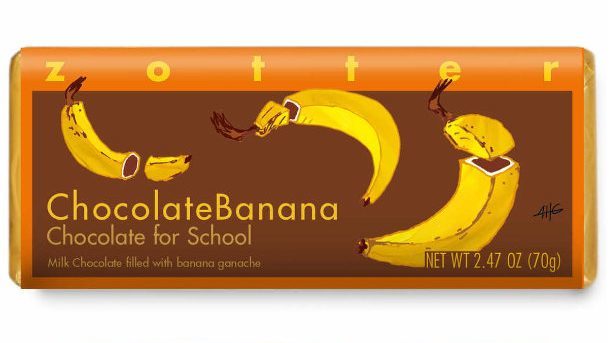 Chocolate for School
A gift that keeps on giving.
Uganda's northern Karamoja region counts among the poorest areas in the country and at the same time it has one of the most challenging climates. There are long periods of drought followed by heavy, prolonged rainfall resulting in floods. This makes agriculture a difficult endeavour. Up to the 2000s, people in this region were largely nomadic until they were forced to settle and attempt to work and cultivate this inhospitable land. The local government didn't build any schools at all, so the Caritas charity eventually decided to build the first small school a few years ago, comprising of just two classrooms. The demand was enormous. Bit by bit, more classrooms and levels were implemented and as of 2020, the school accommodates around 600 primary school pupils from grades 1 to 6. The only thing that hasn't yet grown with the size of the school and the number of children is its canteen.
For Ugandan children, school lunches are often their only meal of the day.
The children love going to school, in particular because they are served a warm meal made from corn and beans. During the dry season, it's often the only meal they get. The goal of our "Chocolate for School" project is to help safeguard school lunches for these 600 children and to pay for a proper extension to the canteen. We also aim to finance the schoolteachers' salaries: it's very difficult to find teachers willing to work in this remote region, but with the prospect of a decent, regular income, more people might consider taking the job.
With your purchase of a "Chocolate for School" chocolate, you are supporting this campaign and the children of Uganda!
Together we can make a difference and enable the Ugandan children to have access to food and education. At least one nutritious meal a day is the essential minimum children should receive, and maybe with our combined efforts, we can even add the occasional piece of fruit to their plates.
IF YOU'D LIKE TO HELP:
You can find further information and an opportunity to donate money at www.caritas-kaernten.at/uganda.