There are so many chocolate bars out there, so it might seem like there's nothing unique Zotter Chocolate could offer – but that couldn't be further from the truth! Read on to discover three mouthwatering treats you can only find at Zotter Chocolate.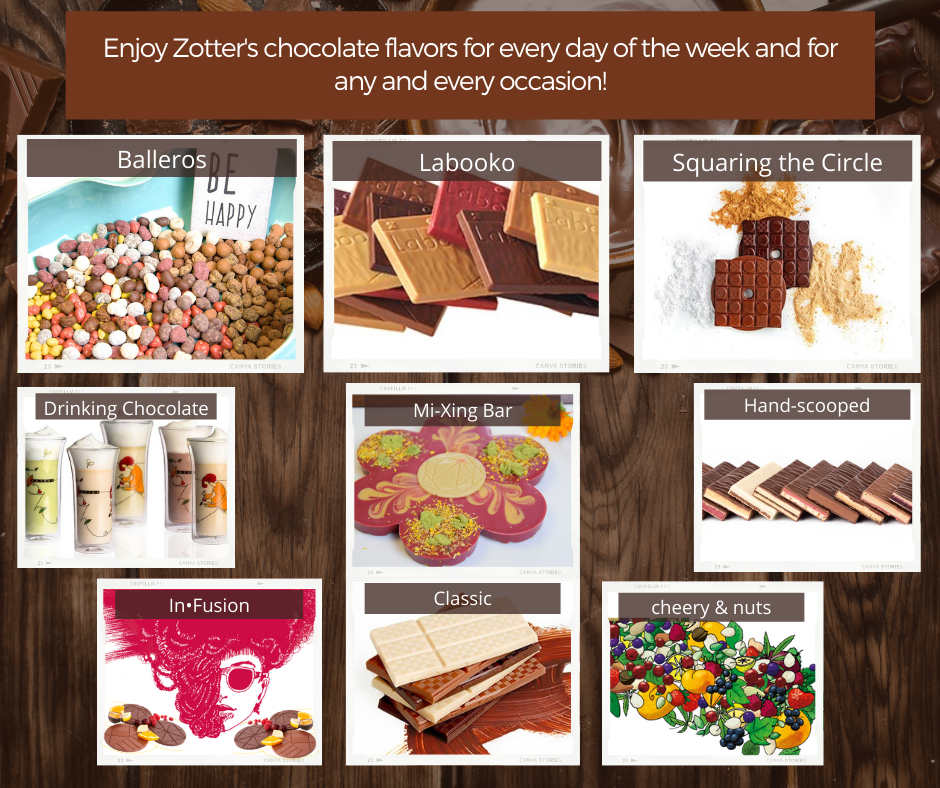 Hand-Scooped Chocolates
Our hand-scooped chocolates are made layer by layer. All of the layers are constructed by hand rather than conventional pouring methods, using a delicious combination of top-notch ingredients.
We start by using our bean-to-bar chocolate that's created in-house. We roll out this decadent chocolate while also preparing ganaches and fine fillings. Once the chocolate is dry, we top it with the filling, then let it rest. This process may be repeated several times, depending on the recipe. We then top it with a layer of chocolate, cut it into 70g bars, let it rest, then finish it off with a chocolate bath. Our hand-scooped chocolates are a labor of love, and you can really taste the difference!
Balleros
Balleros might be small, but they have big flavor! They contain a variety of fruit and freshly roasted nuts in the center, which is then coated with high-quality chocolate. After that, they're either rolled in a sugar mixture, powdered fruit, ground coffee, cocoa powder, or they're shined.
Mi-Xing Bars
Mi-Xing Bars look beautiful and taste even better. Each one is made with lots of attention to detail, so the final product is an edible piece of art. They're decorated with fruit, flowers, cocoa nibs, and more.
Try One-of-a-Kind Treats From Zotter Chocolate
If you're ready to try some unique handcrafted chocolate, visit Zotter Chocolate's online store. We have one-of-a-kind treats you're sure to love!